Beware the Ides of March
Early in Shakespeare's play, Julius Caesar, Caesar is warned by a soothsayer, "Caesar, beware the Ides of March". The Ides were a day for the god, Jupiter, and the date was March 15. As it turned out, Julius Caesar should have heeded the warning. The Ides of March was the day in which Caesar was assassinated.
Generally you and I don't need a soothsayer to warn us of things. We have plenty of warnings. From the engine light on our car's dash to our cholesterol level we have more warnings that we sometimes know what to do with. Sometimes life is simply a matter of trying to arrange and prioritize our warnings.
Many see Lent as a season of warning. "Repent!" is the cry of Lent. Repent from sin. Perhaps a good Lenten question might be this: "Is sin a warning sign?" Is our own personal sin a warning? is collective sin a warning? Is the sin of humanity a warning of sorts? If so, a warning about what?
Open Forum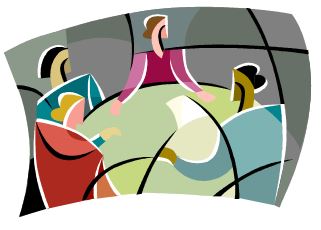 Open Forum meets each Sunday, 9:15 am-10:15 am in the Campus Center Library.
Open Forum Schedule:
March 1 - Part TWO - "Civil Rights after the Civil War: Jim Crow to Federal intervention" led by Professor and member Calvin Schermerhorn
March 8: "Being Mortal" A discussion on end of life decisions & health care led by Christine Wilkins
March 15 - TBA
March 22 - Imam Ahmad "Issues Leading to 9-11"
2015 Grand Canyon Synod Assembly
This year's Grand Canyon Synod Assembly will be held on June 12-13 at Love of Christ Lutheran Church in Mesa, Arizona. Watch for further details about our delegates and those attending.
Thanks to All Those Who Helped Gleaning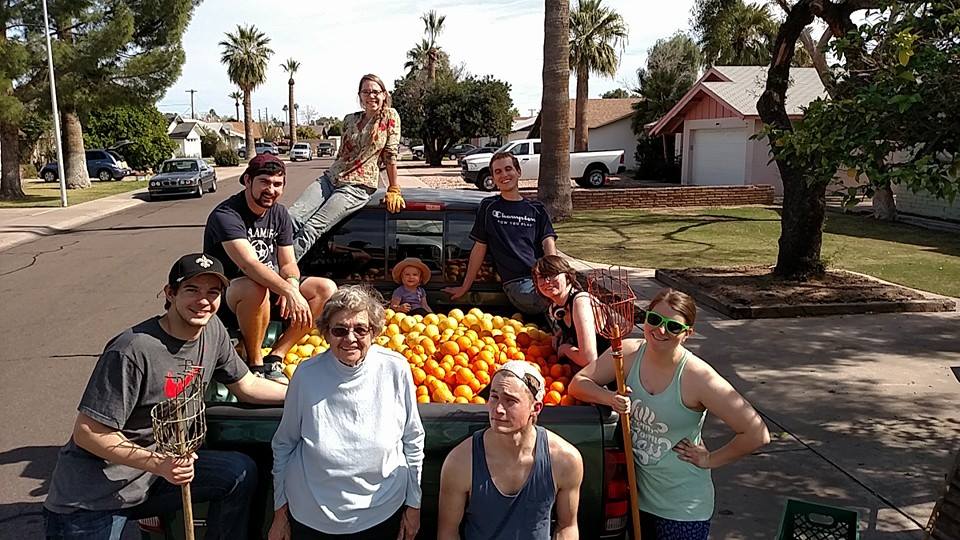 Thanks to the entire team that helped glean citrus.
Page Turner's Book Club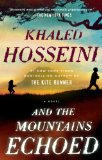 Page Turner's Book Club invites all who like to read to attend our meetings at noon on the first Thursday of each month during the academic year. We meet in the library, bringing our lunches to discuss the monthly choice. We read a variety of styles of books which stretches our imagination, hits our funny bone, questions our understanding of history, and makes us look forward to the next book. Come join us.
Buck-A-Chick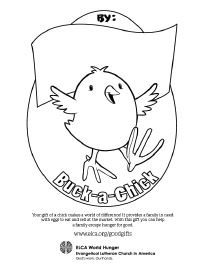 As in past years we will do "Buck-a-Chick during Lent. On the Campus Center pool table will be pages with a Chick on them to be colored. We will have an assortment of crayons, markers, etc. as well as push-pins. For each chick colored, we are asking $1.00 which will be shared with the ELCA World Hunger campaign. You may sign them and hang them on the West wall of the Campus Center. Do as many as you would like. You may put your $1.00 in the basket provided or in the offering. Thank you.
Palm Sunday
We will read mark's gospel of the passion Palm Sunday, March 29 in parts. If you are interested in reading a character 's part, sign up on the blue sheet or talk to pastor Gary.
Church Secretary
Church Secretary has begun her maternity leave. As of this writing her baby has not yet been born. (due 2/18). LCM Associate Alicia Danielson has been filling in with bulletins, newsletters, staffing the desk, etc. We will work hard to maintain regular office hours as best we can. Volunteers are needed to answer phones when this is not possible. Let us know if you can fill in. Thanks!!
Congratulations
to Shawn Aiken, whose law firm, Aiken Shenk, was awarded the 11th Annual Corporate Equality Award by the Human Rights, Campaign, for his work on same-sex marriage in Arizona.
Shampoo/Soap
Students are receiving in March, donations of shampoo and soap for Project Hope. There is a box in the Campus Center for the donations. Congregational members certainly may help. All of ASU's campus ministries are participating. Project Hope is an annual event and will have a huge gathering in April at Chase Field where these will be given away to homeless and needy along with other hygiene and self-care products. There will be dentists, doctors, barbers and others. Thanks!!
Lenten Coin Folders
Coin folders may be returned anytime. However, we are asking they be returned by Maundy Thursday, April 2. Offerings will be shared with Mosaic, a Lutheran-based ministry to those with mental and physical handicaps. Often Mosaic will receive, in one of their area group homes, residents that no other agency will accept. Mosaic, based in Nebraska, has group homes in many U.S. states and several homes throughout the Valley.
Nursery Worker
Student Rebecca Sherod has been hired to work in our nursery during Sunday worship. She will be paid a flat fee of $20 per week. She will be in the nursery on Sundays, 10:15am (just after Sunday School vacates the nursery) until about 11:45/noon. Rebecca is a freshman majoring in Child Development. She is from Sierra Vista, AZ. Rebecca is the fourth member of her family to be part of our ministry. Oldest sister Maggie was the first, followed briefly by brother Bill who then left for the U.S. Army. Another older sister, senior Colleen is a current student. Rebecca had to undergo a background check for this position. She began Sunday, February 22nd. There will be occasional weeks she may be unavailable throughout the academic year.
Imam Coming to ULC/LCM - ULC/LCM Going to the Mosque
Sunday, March 22, Imam Ahmad Shqeirat will speak at our Open Forum, 9:15am-10:15am. He will speak in our Campus Center about some of the causes of anger and frustration that helped to develop some of the extremism leading to the events of 9-11 and subsequent and recent acts of terror. How does the media portray it? What do the majority of Muslims think of such acts and such beliefs?
Following worship that day we are invited to the mosque for lunch. The mosque will provide the lunch free but we need a reservation. Please sign up on the moving bulletin board by March 15.
The 2015 Lenten Devotional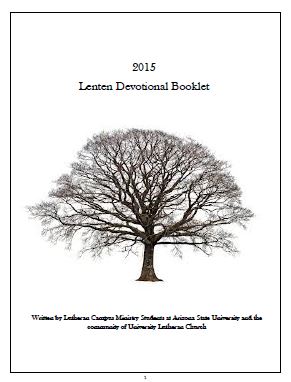 Attached is a DOWNLOAD LINK for the 2015 Lenten Devotional written by our community. You may recognize the names of some authors. This is our gift to you and your friends. Feel free to send it out electronically to your friends or print it out. We are hoping to put it on Amazon. com to be downloaded onto a Kindle as we have in past years. Thank you for your prayers and support. Know that we keep you and your ministry in our prayers.
FREE DOWNLOAD AS A PDF
PURCHASE FOR YOUR KINDLE for 99 cents
Condolences
to Loni and Eric Lehnhardt on the death of their newborn nephew Murdock Kestler in Minnesota. Murdock was the youngest child of Loni's younger sister Lisa
STUDENTS: LCM Sunday and Beyond
Sunday: Transfiguration Sunday...we "bury" the Alleluia! 10:30am, dinner following
Gleaning: Saturday am....need more folks to sign up!!
Ash Wednesday: Feb 18, 6:30pm,
Feb 22: Talent Show
Mar 22: Imam visits and we go to the mosque for dinner
Holy Week / Easter
Maundy Thursday 7:30 pm, April 2
Good Friday: 7:30 pm, April 3
Easter Sunday
April 5: 6 am Outdoor Sunrise Worship, 10:30 am Indoor Festive Easter Worship
Easter Decorations
We will decorate our sanctuary for Easter Sunday with flowers. We will begin receiving offerings for the decorations, Sunday, March 8. Please use the "Flowers" envelope in the chair racks and/or mark your checks "flowers". Thank you!!
SNAP
Arizona needs to act to request federal exemptions from denial of cash assistance stamps (SNAP) to those felons who have served their time for drug related convictions. Persons convicted of users as well as those using cocaine (100 times stronger) received five-year mandatory sentences. We are one of only 13 states still prohibiting benefits to these ex-felons.
Writer's Block
Ah, what to write? A case of "Writer's Block". Except, I'm not really a writer. Mine is more to speak than to write. Yet I am one who, as part of their calling, must on occasion write. In fact, in order to speak, often I must write. So, may I say, "I write. Therefore I am?" Probably not.
Writing sermons is easier. I can cheat. There are assigned biblical texts to get me started. Then on line and in my library are all kinds of books from other writers that give me hints and helps of what to say or what not to say. But a blank sheet of paper with no hints, helps, or advice?
Shawn Aiken's Law Firm Awarded Corporate Equality Award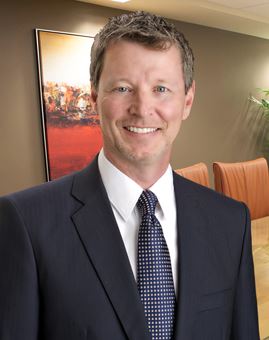 PHOENIX– The Human Rights Campaign, the nation's largest lesbian, gay, bisexual, and transgender (LGBT) civil rights organization,, is proud to announce the awardees for the 11th Annual HRC Arizona Gala Dinner – Aiken Schenk Law Firm as one of the Corporate Equality Award recipients.
Each will be honored at the 11th Annual HRC Arizona Gala Dinner at the Arizona Grand Resort and Spa on Feb. 28 at 6:00 p.m. Tickets can be obtained at HRCArizona.org.
Same-sex marriage became legal in Arizona on October 17, 2014. The Aiken Schenk Law Firm worked tirelessly to achieve those judicial decisions and bring marriage equality to Arizona. Accepting the award for Aiken Schenk will be Shawn Aiken
News from ULC / LCM Alumni
Jill Rode, on January 25, 2015, has been called to be the next Associate Pastor at St. Anthony Park Lutheran Church in St. Paul, Minn.
The 2nd Annual LCM Dinner and Dance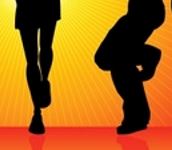 Change of Date: The 2nd Annual LCM Dinner and Dance will be Friday, April 17, at ULC. This year's theme is World War II. 1940s dress encouraged. Doors open at 6:00PM; Dinners begin at 6:30PM. Tickets are $25. More information to follow. Contact Alicia Danielson using our Contact Page with any questions.
2014-15 LCM Graduation Banquet
Mark your calendars for the 2014-15 LCM Graduation Banquet on Wednesday, May 13. Dinner will begin at 6:00PM. More information to follow. Contact Alicia Danielson using our Contact Page with any questions.
Mid Week Lent
Wednesdays, 6:30pm
Gather around the Cross for a more contemplative worship experience.
Theme: "About Face!: God Turns us Around"