Wednesday Worship
Each Wednesday we worship in the sanctuary 6:30pm-7:10pm. Worship is more contemporary style with a student praise band, Power Point instead of a bulletin, etc. Holy Communion is celebrated each week. Worship on Wednesdays is not just for students. Careful! Many who come once continue to return regularly!!
Our worship theme for October on Wednesday nights is "Jacob's Sons"
October 29: Reuben "A Reuben is no Ham"
Our theme for the first 3 Wednesdays in November is: ""Bread"
November 5: "Not by Bread Alone"; Deuteronomy 8:1-10; Bread nourishes our physical life. What is it that gives us life?
November 12: "Daily Bread", Luke 11:1-4; God is a God of abundance who provides for all our needs.
November 19: " I am the Bread of Life"; John 6:30-35; As bread nourishes our body, Jesus provides sustenance and nourishment for life.
November 26: Thanksgiving Eve Worship 6:30pm
Student Bible Study
5pm each Wednesday in the Campus Center. Our November theme is " Dreams". Followed by Dinner.
October 29: "Fire"
November 5: "Jacob's Dream"Genesis 28: 10-22; In this dream Jacob sees a ladder and finds himself standing next to God.
November 12: Genesis 41: 1-36; Pharaoh has a dream and Joseph interprets the dream. God is does not restrict himself from speaking to those outside the faith.
November 19: Matthew 2:13-23; Joseph, the father of Jesus, is warned in a dream to take his child and Mary to Egypt to escape Herod's slaughter of male children.
November 26: No Bible Study: Thanksgiving Eve Worship
Why Go Lutheran?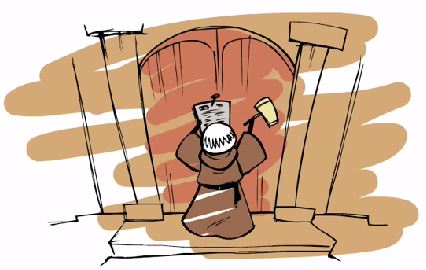 Are you, or someone you love, searching for a college or university to attend? If so, check out the new video "Why Go Lutheran?" and its Website www.WhyGoLutheran.com. The 3-minute video is not your typical recruiting film. It's a clever animation that lays out all of the reasons why a student should "go Lutheran."
Print Edition of the November 2014 Newsletter Now Available as a PDF Download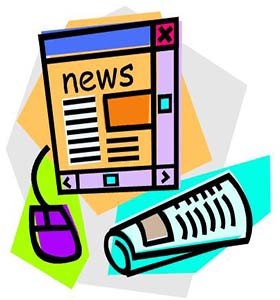 The November 2014 Newsletter is ready to download as a PDF.
LCM Trek Out to Schneph Farms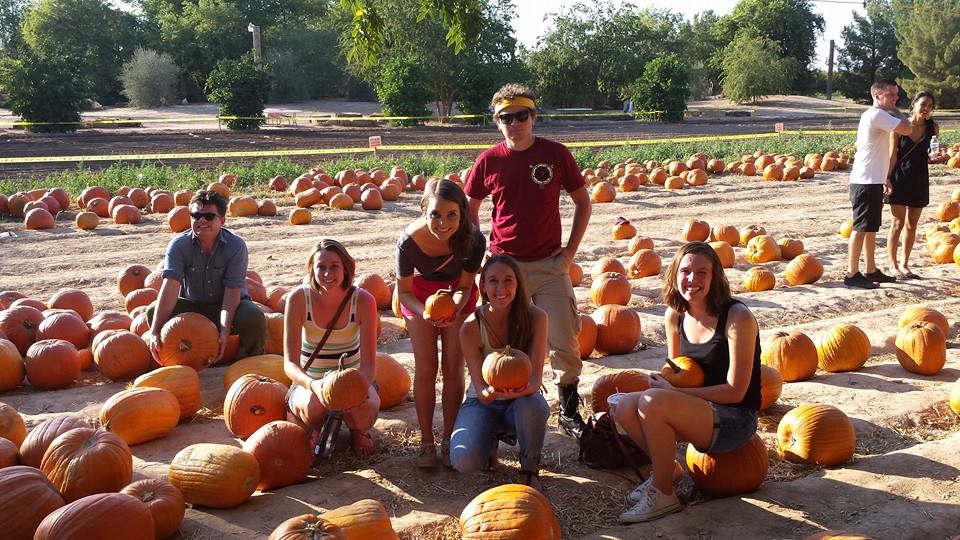 There's never a dull moment at Lutheran Campus Ministry. The crisp fall air brings out the "orange". Thousands of pumpkins, treks throught he corn maze. It looks like everyone had a great time.
Confirmation Sunday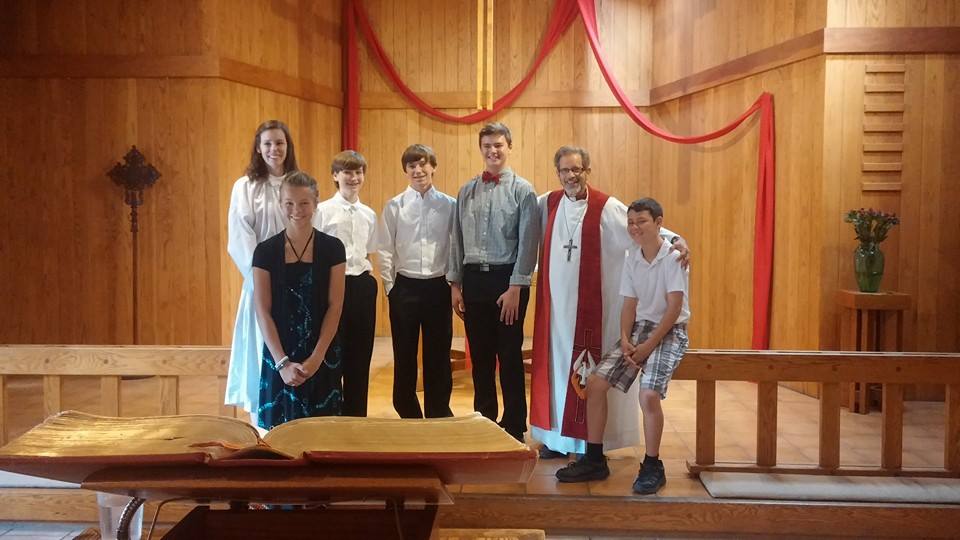 Confirmation Sunday at University Lutheran Church,
Open Forum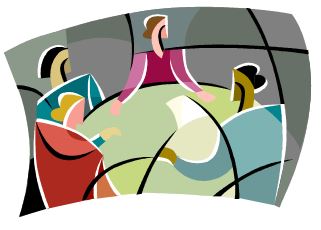 Open Forum meets each Sunday, 9:15 am-10:15 am in the Campus Center Library.
October Open Forums
Oct 26: "Digging, Dusting, Describing" , doing archaeological work in Cypress, by student Jennifer Brandon who spent much of the summer in Cypress.
November 2: Ruth Lindsay, "World Day of Prayer: Streams in the Desert" Ruth serves on the national board for WDP
November 9: Mary Louise French, "Native American Ministry in the Valley" Pastor French, a Native American, is Assistant to the Bishop for the Grand Canyon Synod and has begun an outreach ministry to Native Americans in the Valley.
November 16: Joe Connolly & Terry Pochert: "Same Sex Marriage Legal Updates: What do recent court dates mean for this in Arizona?
November 23:Hilary Cummings "Suicide Prevention: "What to do When You See the Signs" Ms. Cummings has been doing such workshops for several years and brings wealth of expertise on the subject.
New Facebook Garden Page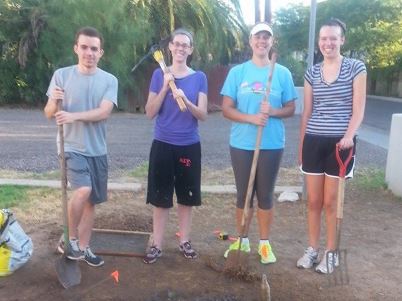 In addition to our regular Church Facebook page and Campus Ministry Facebook Group, the Community Garden Team has created a brand new Facebook ULC Community Garden Facebook Page.
If you are a regular Facebook users, click here to visit the special page. Then click LIKE. The team's posting will then regularly appear on on Facebook news feed.
Amazing what will be happening on this little corner of "heaven" on our property.
Are You A Thrivent Member?

Each Thrivent members has the ability to organization and help TWO projects each year called Action Teams. These Action Teams are involved in almost any type of community building project. Each project is eligible for $250 seed money.
The community, University Lutheran Church and Campus Ministry can all benefits from these teams.
One such project will be helping to create a border aroiund the new ULC Community Garden on the northeast corner of our property. Other projects might be Work Days at the Church and purchasing supplies, cleaning up tree branches, changing smoke detectors in member's home, etc. A great list of ideas can be found on a PDF download file called 101 Ways To Spark Action In Your Community.
The New Air Conditioning Unit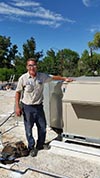 Just a few minutes showing how your contributions will be helping to make this congregation and Lutheran Campus Ministry really COOL!
We thank you for all the contributions to date. We are slowly reaching our goal. If you would still like to help, please mark your contribution "Air Conditioning" and place in the offering plate.
Terry Pochert wishes to thank every one for their support that is making this possible!
New Members
Received into membership Sunday, October 12 were Mike and Kelly Robers, Blake Petersen, and Richard, "Dick" Shirley.
Mike and Kelly were students here. Kelly was baptized at ULC. Pastor Gary presided at their wedding in Chicago where Mike was in medical school and Kelly in graduate school. Mike is a resident at Barrows Neurological Center at St. Joseph Hospital in Phoenix. Kelly is beginning her job as nutritionist for the Women, Infants, and Children (WIC) program.
Blake is a native of Arizona and grew up in the Valley. He is a student in LCM and a social work major. Blake transferred here from Gloria Dei Lutheran Church, Paradise Valley. He is a senior at ASU.
Dick was once a member of the church Pastor Gary served in Colorado Springs. He retired to Scottsdale, Arizona after working in retail and wholesale sales. Dick has two children, a son David and a daughter Susan. Susan and family also live in the Valley (Mesa).
Bread For The World

We were fortunate to have Ruth Wootten conduct the adult forum on Bread for the World, Turn Your Faith Into Action.
Download some of the Resources:
Abby Henderson Preaching
LCM alum, Abby Henderson, will preach at our Wednesday worship, November 12. Abby spent the last year in South Africa working for Young Adults in Global Mission (YAGM), a ministry of the ELCA. Abby currently works for YAGM as a student recruiter. Abby's older brother Ben is also an alum of LCM/ASU.
Joe Connolly and Terry Pochert Wish To Thank the Congregation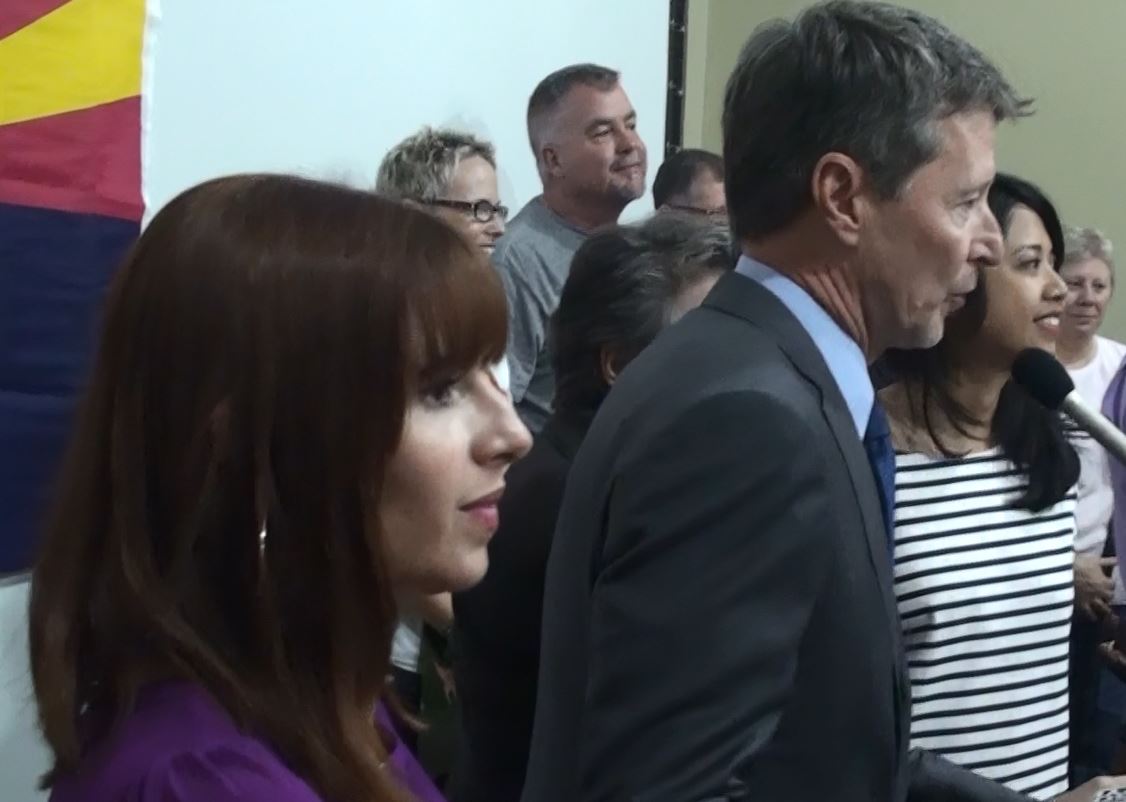 Shawn and Lynn Aiken along with Ellen and Erik have given up countless hours in support of Joe Connolly and Terry Pochert.
Most folks have seen the news coverage this past Friday. Please note that University Lutheran Church, its members and guest, students and friends played an important part in this celebration.
Student Discussion Group
We meet in the Campus Center for four consecutive Fridays at 3pm-4pm beginning with Friday, October 31 and ending Friday, November 21. Together we look in-depth to various theological and Biblical topics. We met for four Fridays in September discussing such things as the relationship of Faith and Science, Who is/What is God?, and Resurrection.
October 31: Did Jesus have to die?
November 7: The Problem of Evil.
November 14: The Bible as Word of God. What does this mean?
November 21: The role of Jesus for faith.
Christmas Family
Students are receiving offerings each time they gather for a meal to provide gifts and food for an area family for Christmas. Students have taken on this project for 10 years. They buy, wrap, and deliver the gifts, paid for by their gifts of money. They deliver the entire dinner for Christmas.
Arizona Cardinal Game
We still have a few tickets left for the November 16 game vs. the Detroit Lions, 2:25pm ( plenty of time to get there after worship) . Cost is $46.25 or $51.25 per ticket. LCM receives $10 per ticket sold. Parking is free. There is a $4.00 charge per transaction as a service fee. Forms are on the desk at the church entrance. You may send them in or give them to Pastor Gary or Alicia. Hurry....the game is almost sold out!
Lefse
Students are busy making Lefse to sell as a fund-raiser. Currently we are set up to sell lefse at 7 churches in the Valley with possibly one more to be added. If you would like a package of lefse, talk to Pastor Gary or Alicia. Cost is $10 per package.
All Saints Day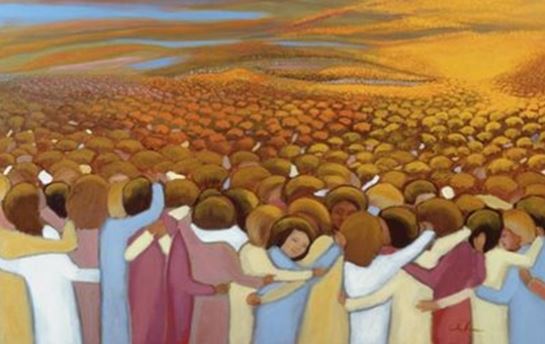 Sunday, November 2 is All Saints Day. We will remember in our prayers all who have died since All Saints 2013.
You may e-mail or call the church office with prayer names. Or you may list them on the blue sheet in the bulletin on Sunday.
Please mark them "All Saints". E-mail: info@ulctempe.org Phone: 480-967-3543 Oct. 28 is the deadline to receive names to be included. Thank you.
Major Air Conditioning Units Approved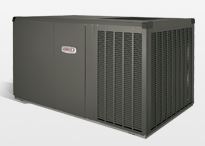 UPDATE: We are so thankful for your contributions. We now of enough to at least start the installation. Installation will begin on October 20th and hopefully finish within two days. You will see a crane on the property and a full crew to help make the installation as seamless as possible. Simply write "Air Conditioning" on any future contributions. Hopefully we will hit our goal in the next few weeks!
At the meeting September 7, the Congregation unanimously approved the proposal recommended by the Council to address long-standing needs for air conditioning work on the Campus Center.
Since this is a major expenditure, it might be helpful to know more about how this will be financed. We can always use special gifts toward this project, as we seem to do with some regularity! It is no surprise to note that our buildings and trees are old and in need of constant upkeep. While the Property Committee and Council work to minimize the number of large projects each year, sometimes we are hit with surprises! When trees are down, or immediate repairs are needed, we often have to dip into savings if we do not have a balance to cover the cost. While we do have savings which could cover the cost of the air conditioning units, using all our savings would leave us with little for other emergencies.
Parking Lot Lights Now Working
The three parking lot lights on the east side of our north building (Campus Center) are now working correctly.
The recent storm damage some wiring causing a circuit to short out. Not having these lights working correctly raised concerns of security and safety.
The wiring has been replaced by K2 Electric and their team of electricians.
We Couldn't Do It Without You!
Our tree-laden park and older properties couldn't present themselves nearly so well without all our volunteers who pick up and do what is necessary. Special thanks to Hal Morgan, Blake Peterson, Andy Tadlock, Ellie Strang, Ruth Wootten, Shirley and Terry Coffelt, and Art, Lynn and Brian Becker for their labors of love in and around our campus! We do so appreciate it!
What is Cool?
Riding home from our Labor Day Retreat the students in my 15 passenger van began a discussion. Listening in I was surprised to hear their comments. One began by saying, with a combination of resignation and acceptance, that she was "not cool". A quick survey discovered no one in the van (driver excluded, of course) considered themselves "cool".
A bit more difficult to determine was an exact definition of cool. Everyone seemed to have their own. And for each that definition was a description of not fitting in somewhere or with some group that seemed to be a place or group for popular students. Part of the definition had to do with dress, part with habits or even self-care. A commitment to academics for the sake of learning can land one outside the arena of cool in many circles. Cool people, it seems, just get a degree to get a job to earn more money. The uncool want to contribute and help others. While most all students like to enjoy a good time, the route to that enjoyment varies from cool students to those not cool. It was an interesting learning experience to listen in.
Thanks
Congratulations
to Shawn Aiken for being named "Lawyer of the Year" in Mediation by "The Best Lawyers in America"