REGULAR SCHEDULE

Sunday
Worship
10:30 am
Sunday School and
Adult Forum
9:15 am
After Labor Day

Wednesday
Worship
6:30 pm
STUDENT SCHEDULE
Limited events between semesters
Wednesday
Bible Study 5pm
Dinner 5:30pm
Contemporary Worship 6:30pm
Sunday
Worship 10:30am
Dinner following
Students: Check out the Campus Ministry page for specific student events.

We are a
Reconciling Works - Lutherans for Full Participation
congregation
University Lutheran Church intends to provide a safe and welcoming environment for all of God's people, regardless of race, situation, family status, sexuality, size, shape and place in the world. ULC is a Reconciling in Christ congregation registered with Lutherans Concerned/North America. Thanks be to God for the blessings we have and the differences we share!
Welcome all students and parents. (map)
Thank You to University Lutheran Church from the Students at Lutheran Campus Ministry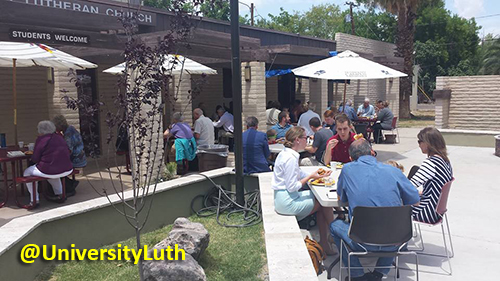 What an amazing academic year! As the year comes to an end the students of Lutheran Campus Ministry put on a wonderful event to THANK all the members of the University Lutheran Church and the donors who so graciously help make this mission possible.
Pastor's Notes - Something Extraordinary
Those of you who know me are aware I enjoy learning about history. The history of the U.S., of Europe, of the world, of baseball, of the community and state in which I live,...the history of most anything. I mean, you know it is obsessively bad when I just read the history of Mcilhenny Tabasco sauce. (John Avery Mcilhenny was one of the Rough Riders with Teddy Roosevelt).
Open Forum
Meets Sundays 9:15am- 10:15am in the Campus Center Library.
May 1: Secular Faith? Who Sets the Direction for American Politics? Do we take our cues from Religion or Culture? Led by Pr. Gary
May 8: What Does it Mean to be Lutheran? Led by Pr. Gary
Worship Time Change
SUNDAY, MAY 15 WE MOVE TO 9AM SUNDAY WORSHIP
Our 10:45am worship returns August 21.
Our last Wednesday worship service for the academic year is May 4
Graduation Banquet
May 10, 6pm
RSVP's needed: Call the Church Office or use our Contact Form
May 1 is when we hope to have all RSVP's in.
Congratulations
to Dale Ramirez for being selected to be the Drum Major for the ASU Marching Band for the next academic year. Dale also plays saxophone and was in the band.
Summer Connections!
It feels like summer is here so that means it is time to mark your calendars with dates and locations of our informal gatherings affectionately known as Summer Connections!
Summer Connections are casual, unstructured gatherings where we can meet new friends and catch up with the old (long time) friends. We share dinner and conversation twice a month during the summer, which is only June, July and August just in case you are not sure! We have a potluck at someone's house 6:00 pm on Wednesday evenings. The hosting family usually provides the main dish, often grilling hamburgers and hot dogs, however if you would like to serve top sirloin no one will complain. Everyone else brings a side dish or dessert and their own beverage.
Whether you can make all the connections or just one, please put the following dates on your calendar. We never know what we will eat, who will be there or what the weather will be like (OK 100's) but we do know it is a good evening of enjoying positive fellowship, meeting new people and trying new things. ALL ARE WELCOME!
Pentecost - May 15
Sunday, May 15 is the Day of Pentecost. At our 9am worship service we will read the Acts 2:1-21 text in various languages. If you can read in a language other than English, please call the church office, use our Contact Form or sign up on the moving bulletin board. Let us know what language you will read. The text can usually be found on the internet in various languages, but if you cannot find the language you are looking for, ask Pastor Gary. He has the text in many languages.
Thank you Bar B Que
Our Annual Thank you Bar B Que is Sunday, May 1 following the 10:45am worship service. This will be done entirely by students. You do not need reservations nor do you need to bring food. Students will cook, serve, set up and clean up as a way to thank the congregation for their support.
Young Adults In Global Mission
Young Adults in Global Mission (YAGM)is a program of the Evangelical Lutheran Church in America that annually sends 75 young adults to various countries around the world to serve in a particular mission for a year. Our last YAGM student was Abby Henderson who served in South Africa. Hundreds of young adults apply for these positions each year. This year three students from our ministry were selected for service: Julie Gerrish, Mikayle Holm, and Annie Skivington. At this writing it is uncertain where they might serve, though some of the possibilities mentioned have been Senegal, Tanzania, Uruguay, and Hungary. All three have opportunity to accept or decline their appointments. As this is written all three are in Chicago meeting with all 75 selected. We are very proud to have three students represented in YAGM!

For those who wish to have offerings transferred electronically to their church's account.
It's SAFE AND SECURE
---

Follow Lutheran Campus Ministry
at ASU

Your Purchase Using This Link Helps LCM
---
Director of Music


Aiko Yamada-Mancini
Click for Full Map