REGULAR SCHEDULE

Sunday
Worship
10:30 am
Sunday School and
Adult Forum
9:15 am
After Labor Day

Wednesday
Worship
6:30 pm
STUDENT SCHEDULE
Limited events between semesters
Wednesday
Bible Study 5pm
Dinner 5:30pm
Contemporary Worship 6:30pm
Sunday
Worship 10:30am
Dinner following
Students: Check out the Campus Ministry page for specific student events.

We are a
Reconciling Works - Lutherans for Full Participation
congregation
University Lutheran Church intends to provide a safe and welcoming environment for all of God's people, regardless of race, situation, family status, sexuality, size, shape and place in the world. ULC is a Reconciling in Christ congregation registered with Lutherans Concerned/North America. Thanks be to God for the blessings we have and the differences we share!
Welcome all students and parents. (map)
Women's Bible Study will meet these Thursdays, at 7 p.m.:
Thursday, June 30 at Carmen Bieber's
Thursday, July 21 at Ellie Strang's
Thursday, August 18 at Kim Savage's
Summer Connections!
It feels like summer is here so that means it is time to mark your calendars with dates and locations of our informal gatherings affectionately known as Summer Connections!
Summer Connections are casual, unstructured gatherings where we can meet new friends and catch up with the old (long time) friends. We share dinner and conversation twice a month during the summer, which is only June, July and August just in case you are not sure! We have a potluck at someone's house 6:00 pm on Wednesday evenings. The hosting family usually provides the main dish, often grilling hamburgers and hot dogs, however if you would like to serve top sirloin no one will complain. Everyone else brings a side dish or dessert and their own beverage.
Whether you can make all the connections or just one, please put the following dates on your calendar. We never know what we will eat, who will be there or what the weather will be like (OK 100's) but we do know it is a good evening of enjoying positive fellowship, meeting new people and trying new things. ALL ARE WELCOME!
Thanks
to Will Salz for using his wood-working skills on book shelves in the pastor's office
Action Teams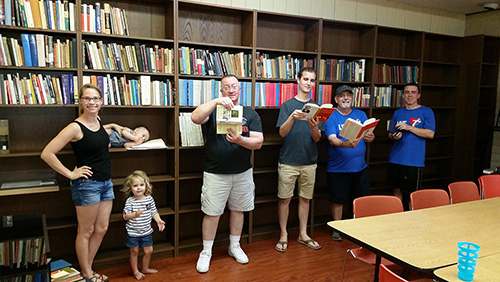 Thanks to the volunteers, the donations, and the seed money from Thrivent Financial which helped make the new library shelving and the serving credenza possible. In addition to the IKEA shelving, a credenza was built which is no located on the south wall. This along with a new serving cart (hopefully) will help make the library truly multi-purpose.
We are also working on a wall mounted TV that would sit above the credenza through a generation donation of one of our members. We have to work out the details for raising an AC outlet for the unit so that all the cords for the TV will be hidden.
Thank you, thank you, thank you for your generosity, labor and the many donations of books.
Blood Drive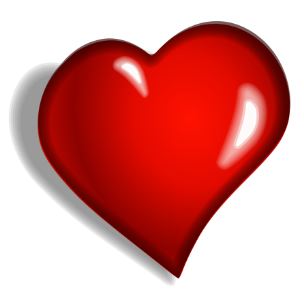 Right here at our own location a Blood Mobile will be present for a blood drive three times during the academic year. We are planning on inviting the Friends (Quakers) next door to be a part. We will need to sign up ahead of time to insure enough donors.
Dates are:
October 20
January 22, 2017
April 23, 2017
All dates are Sundays after worship.
Message from our Bishop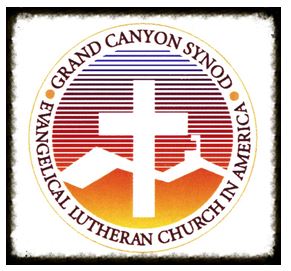 Once again our nation has been rocked by the senseless and horrific act of one human being against other human beings. Once again our President has had to address our nation because someone filled with hatred toward another and possibly motivated by extremist religious teaching has chosen to act in violence, horrific violence. Now a nation, a community, a circle of friends and countless families have received the gut-wrenching news of a loved one being randomly shot down. Bishop Robert Schaefer of the Florida-Bahamas Synod shared Sunday, June 12, following the close of their synod assembly which gathered under the theme of "Let Justice Roll" this word to the Conference of Bishops of the ELCA.
Worship Time Change
WE MOVED TO 9AM SUNDAY WORSHIP DURING THE SUMMER
Our 10:45am worship returns August 21.

Thanks
to Blake Petersen for cleaning out the compost bin and emptying it of non-compost.

to Terry Pochert for selecting and buying and Eric Lehnhardt for installing a new faucet for the kitchen sink in the Campus Center
LCM Pool Party - May 2016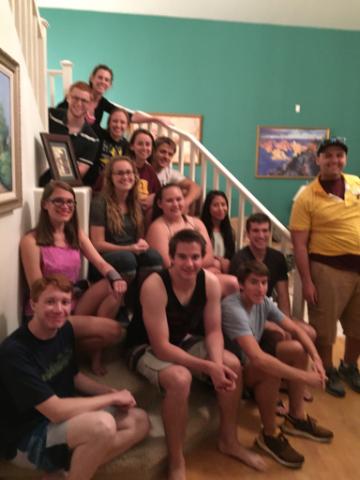 Lutheran Campus Ministry pool party, May 2016.
Pastor's Notes - Graduation
There were a lot of thank yous at our 14th Annual Graduation Banquet. There were a few tears as well. There was good food, laughter, smiles, hugs, pictures, and introductions. It was pretty much like the 13 banquets that preceded this one. The faces and names were different, but the stories were similar. Beneath the backdrop of a running slide show of their photos from various LCM events each senior came forward to share their thanks and say something about their experience here as well as where they are now headed.

For those who wish to have offerings transferred electronically to their church's account.
It's SAFE AND SECURE
---

Follow Lutheran Campus Ministry
at ASU

Your Purchase Using This Link Helps LCM
---
Director of Music


Aiko Yamada-Mancini
Click for Full Map